Dyan Garris music reviews:
Mystic's Nine – Review by Kathy Parsons of Mainly Piano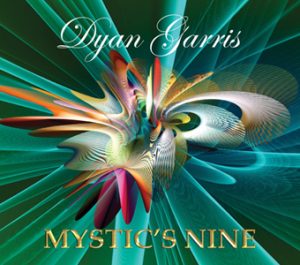 Mystic's Nine is composer/pianist/keyboardist Dyan Garris' thirteenth album and was composed and recorded over a period of four years. With a very impressive group of contributing artists, Garris has created a collection of eleven tracks that pertain to the mystical number nine. It is also a concept album "with the theme of the resilience of the indomitable human spirit and triumph over adversity." Nine of the pieces are instrumentals and two are vocals. Some of this music is ambient and ethereal while other pieces are much more upbeat, melodic and vibrant. It's a colorful mix that works well in the background as well as with focused listening; I especially enjoyed listening the album while driving down the coast in the rain! Garris is a classically-trained pianist and violinist, but she is also a visionary mystic, voice recognition psychic, and trance channel medium who reads from the Akashic Records.
Mystic's Nine opens with the rhythmic and very lively title track. Keyboards, wordless vocals, and driving percussion (Joe Bauer) send the spirit of the album joyfully soaring from the very first note! "Mystic Sea" begins with the sound of flowing water (which is audible throughout) and then becomes a blissfully ambient, gently floating dream that features Scott Schaefer on flute. "Muse's Gift" is one of the two vocals and features Amber Norgaard (the lyrics are in the liner notes of the CD) and Peter Sterling on harp. "Mystical" cranks up the rhythm behind Jeff Oster's peaceful flugelhorn and trumpet (Oster co-wrote this piece with Garris) – a favorite. Joe Bauer returns on "Cloud 9" with a pulsating rhythm that propels the piece – another favorite. "The Mist" is the second vocal piece, this time with Amber Norgaard and Margo Joy, and cello by Michael G. Ronstadt. Heartfelt and bittersweet, it's a beauty! My favorite piece on the album is "East on 9th." Resonating with a strong beat, a cinematic sweep, and a slightly exotic flavor, this one had me hitting the "replay" button several times! "Water For the Soul" quiets down a bit in a more classic new age mode that is warm, open and free- form, bringing the album to a peaceful close.
Dyan Garris is a fascinating artist who brings a wide range of influences to her music. Overall, Mystic's Nine is much livelier than most albums in the "new age" genre, and it's a sound that I really like. The album is available from Amazon, iTunes and CD Baby. Recommended!
March 27, 2017
Mystic's Nine
Dyan Garris
2016 / Dyan Garris
43 minutes

___________________________________
Review of Mystic's Nine by Midwest Book Review
MIDWEST BOOK REVIEW says:
Mystic's Nine is a captivating CD New Age album that beautifully demonstrates composer Dyan Garris' keyboarding talent. Two songs have vocal tracks (with lyrics printed on the album's case); the rest are instrumental. A soundscape that soothes the quiescent soul, Mystic's Nine is highly recommended for both personal and public library ambient music collections.


____________________________________
Review of Mystic's Nine by Candice Michelle of Journeyscapes Radio
Mystic's Nine is the thirteenth album from Dyan Garris, an Arizona-based composer whom is also described as a "visionary mystic, voice recognition psychic, and trance channel medium who reads from the Akashic Records". A classically-trained pianist and violinist who began playing at the age of four, her impressive repertoire of both artistic and healing tools consists of meditative music, as well as spiritual books and oracle decks. Named for the esoterically significant number nine, Mystic's Nine is comprised of eleven compositions spanning forty-three minutes that features both relaxing and rhythmic passages. The album mainly consists of piano and synthesizers throughout, as Dyan is joined by several guest artists on varying tracks, including Joe Bauer on drums, Scott Schaefer on flute, Amber Norgaard and Margo Joy on vocals, Jeff Oster on flugelhorn and trumpet, Will Clipman on percussion, Michael C. Ronstadt on cello, and Peter Sterling on harp.
"Mystic's 9" opens with an uplifting arrangement of piano and synthesizers accompanied by a steady drumbeat courtesy of Joe Bauer, who also plays percussion on two other tracks. Eliciting a warmly positive mood that feels a bit whimsical, the piece affectively brings to mind that of flying a kite in the winds of a sunny day. "Mystic Sea" follows next, a particularly beautiful piece that features Scott Schaefer on flute. Beginning with bubbling currents, gentle flute is woven among a swirling sea of celestial chords, which are accompanied by distant ethereal voices evocative of mythical mermaids and sirens. Easily my favorite piece on the album, I'm reminded somewhat of both Chris Conway and Aeoliah, as it conveys the healing spirit of the ocean and paints stunning images of a peaceful underwater world. Up next is "Muse's Gift", one of two lyrical vocal tracks on the album, featuring singer Amber Norgaard and harpist Peter Sterling. Here, Amber delivers an inspirational message about leaving one's worries behind, as Dyan's piano accompanies the song's lead melody throughout. Another favorite, "Mystical", ensues with the immediately recognizable flugelhorn and trumpet contributions of Jeff Oster, which mesmerizingly soar above a steadily rhythmic current that's underlined by a pronounced bassline. Conveying a euphoric feeling of travel and flight, it's easy to imagine a hang-glider soaring above a pristine landscape in the sunset. I'm also particularly fond on the next track, "Mystic Kiss", which features Will Clipman on percussion. A sparkling, aquatic-like piece in which crystalline bells and synthesized vocals form a gentle melody, it imparts the essence of both romantic as well as universal love. The ninth track, "East on 9th", is also a notable highlight, once again featuring Joe Bauer on drums. Led by my favorite piano melody on the album, the piece bears a hint of exoticism that conveys an almost gypsy-like feel infused with subtle elements of chill. Closing out the album is "Water for the Soul", a gently bright yet calming piece led by piano, synthesizer and delicate vocal washes.
Definitive of melodic new age music with influences of both 80's and 90's-era works in the genre, there is just enough musical variety on here to keep things interesting. An angelic essence infused with a genuine spirit of love and joy radiates throughout this album, one that is sure to leave the listener with a feeling of both deep peace and solace! ~Candice Michelle


__________________________________________
Review of Mystic's Nine by Janet Mawdesely of Blue Wolf Reviews
Dyan Garris is many things to many people, but when she is totally involved with her music, she is only one thing: that of the medium to bring forth love and joy through the wonderful gift of music. In this album she has opened the book of Akashic Records. By doing so has been allowed to interpret only one chapter into what is an inspired choice of music styles, representing the ebb and flow of life, the good, the bad, the happiness and the grief.
To be able to listen to life in the various modalities transcribed is something very special as each of the pieces, aptly titled, gives the listener an insight in what is to come.
The introduction, Mystic's 9 is a little spacey, up tempo and very modern in interpretation but when followed by Mystic Sea, a peaceful and mellow piece, you are immediately into the vibe of the entire album.
A lovely vocal rendition of Muse's Gift from Amber Norgaard, adds an unexpected element as you are invited to 'Come, leave your troubles by the Spring, and Listen, listen, listen, to the gift the muses bring'. Jeff Oster joins in on flugelhorn and trumpet in the evocative Mystical adding an elemental change of pace and richness. Will Clipman adds his almost ethereal percussion to the mix on Mystic Kiss.
Heaven's Gate once again brings Dyan Garris back to the keyboard for this joyful composition as she trips delicately over the keys, with some amazingly interesting synth mixed in, to give yet again that sense of traveling through time, endless space, and timeless peace.
Cloud 9 and East on 9th sees Joe Bauer adding a little dash or panache on drums to these nicely up tempo pieces which create a change of place and time.
With the final composition Water for the Soul you are encouraged to gently return to this world, refreshed, renewed and relaxed.
As a child commencing her journey in the world of music Garris's teacher said to her, 'Music is not about seeing. It is about feeling". With this collection of evocative pieces 'music to feel, not to see' has been perfectly presented.
.
Review of Mystic's Nine by Steve Sheppard of One World Music