AWARD-WINNING NEW AGE RECORDING ARTIST ~ CONTEMPORARY NEW AGE PIANO. RELAXING, PEACEFUL, CALMING NEW AGE PIANO MUSIC BY DYAN GARRIS
ABOUT DYAN GARRIS
Dyan Garris (how do you pronounce that anyway?) Easy. Dyan is pronounced, "Diane." Although I've been called worse, please don't call me Dylan…or…Dion. My mother always said that Diane with an "i" shines like a diamond. A well respected numerologist told me that "y" there equates to a deeply spiritual life. Which is better? Not sure. You tell me.
WHAT ABOUT THIS MUSIC?
I'm an award winning New Age recording artist. Multiple award nominated. #1 charting. Etc. The song Mystic Sea, from the album "Mystic's Nine," won the VOX POP award in the New Age Song category at the 16th Independent Music Awards (IMAs). The album won a Global Music Award.

I've produced and recorded thirteen albums, including a series of six independently tested music and guided meditation CDs that earned The National Health & Wellness Stamp of Approval. You can hear my music on Pandora, Spotify, iTunes, Sirius XM, Muzak, Sleep Channel, Spa Channel, Music Choice, New Age Channel, Last FM, Accuradio, New Age Notes radio, and more. You know. Wherever you find relaxation music.
My 14th album, a relaxation album, "Orenda: Breath of Angels" was released on April 23, 2021. Click the album cover graphic to order the CD, physical or digital. Then, in addition to some very relaxing music, with guest artists, Juliet Lyons, Sherry Finzer, Rebekah Eden, Louis Anthony deLise, and Tony Garviz, you'll be able to find out what "orenda" is. Meanwhile. . .
"Somewhere between your own inhale and exhale, is the space where angels breathe." -Dyan Garris
Two singles from the album "Forest Whispers," (feat. Sherry Finzer, flute) and "Timeless Traveler" (feat. Sherry Finzer, flute and Rebekah Eden, ethereal VOX), have been nominated for the 8th Annual One World Music Radio Awards, singles category, "Best New Age Single."
ANYTHING ELSE?
You bet. Labels (I don't mean record labels), are the most ridiculous thing ever, right? Why can't we just be a whole person? I feel like a whole person. I'm also an award winning author of several self-help books, a visionary mystic, voice recognition psychic, and trance channel medium who reads from the Akashic Records. It's just the way I came in here and I learned to stop apologizing for it a long time ago. That said, I could quite possibly be the LEAST "woo woo" person you'll ever meet. Here's the official stuff: "A pioneer in the field of energy integration, chakra balance, and energy field healing, Garris has helped thousands of people move forward by teaching them to use their innate intuition and to connect with and harness the power contained in their chakras." Good extra stuff, eh? All true.
BEGINNINGS
I started playing the piano when I was four years old. My mother bought a baby grand piano and soon thereafter brought in a piano teacher. The piano teacher was an interesting choice because he was totally blind.
DID YOU SAY BLIND?
Yes, blind. Blind, but not deaf. At the first lesson I asked him how he was going to teach me to play the piano since he could not see. I asked him to take off his glasses so I could see his eyes. He obliged. They were beautiful blue and they were definitely blind. But even then through those obscured windows, I saw his soul. He was the perfect choice. Perfect. My mother knew what she was doing, apparently. Who knew?
SO HOW DID THAT WORK?
He was brilliant. And he said to me, "Child, we do not need to be able to 'see' to play this instrument. We only need to be able to feel the music. Music is not about seeing. It's about feeling." With that, he took my hands and placed them atop of his and I have to say we played the most wonderful, beautiful music. That feeling stayed with me my whole life.
ANY OTHER INSTRUMENTS?
Yes. I'm a classically trained pianist, and along with continual piano lessons and schooling from that time on, I also took up the violin. I love, love, love the violin. I became first chair, first violin all throughout high school orchestra. I love the way the two instruments blend so nicely together in perfect harmony.
There was another girl that was in orchestra that had about an equal proficiency as I did. They made us audition for first chair, first violin every single week. So I was constantly playing the violin. Well, and the piano too. At 15, I told my mother I needed more piano lessons. I remember her being surprised, but she got them for me. So while my contemporaries were out partying, I was home practicing my Hanon scales (not so odd for a Scorpio with 4 planets in Virgo though), and playing Sonatinas. Music was my first love.
FAVORITE QUOTE OR SAYING?
Indeed. "Stop trying to tell the Universe what to do. It already knows what to do." And, can't resist another: "If we know it all already, then we can all just go Home."
WHAT'S THE PREVIOUS ALBUM?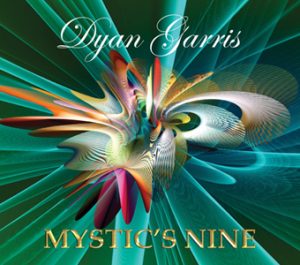 The CD, "Mystic's Nine," is an award-winning concept album (Global Music Award), whose theme revolves around the resilience of the indomitable human spirit and triumph over adversity. It was released 1 November 2016, after 4 years of unavoidable delays and bizarre circumstances. Apparently the theme of the album knew the theme of the album even before I did.

ANY OTHER TIDBITS?
Sure! My mother was a recording artist herself. She had an extraordinary soprano voice. Me, I can't sing a note. If I had to sing, we would all be in trouble. Mom was in a barbershop quartet when those weren't even cool. But the four of them were so cool without even trying and were truly amazing. They won a lot of awards. They also recorded an album. Too, my father played the violin. My uncle was a concert pianist. He had a magnificent concert grand piano at his house and I always wanted to visit there so I could play it. He was heavily involved with the Chicago Symphony and he could play Rhapsody in Blue like no one I've ever heard before. I aspire!
WHAT ELSE THEN?
Someday I will give you the backstory. Right now, we don't know each other quite well enough yet. But here are a few additional snippets:
* I LOVE teaching manifesting. I don't like calling it "manifestation" because to me that sounds like an "infestation." Anyway, I created some courses on manifesting. And I have 2 best-selling books on the subject. They teach people to manifest in 3D. That's the way we're supposed to do it. Remember, I said something about being a whole person? That's how you have to manifest. Since we're friends now and you've made it all the way to this part of the page, I'd like to give you half off the course, "5 Secrets to Successful Manifesting." It's different, refreshing, easy, straight to the point, and well…it's half off for you. CLICK and it shall be opened to you.
* I have a chakra balance certification course that is double accredited and is also approved as 50 hours of continuing education through NCBTMB. In 2005, I started creating a "Spiritual Toolbox" of products that are designed to work together for multi-dimensional, integrative healing. These include the multiple award nominated CD series with many #1 charting songs.
* I'm also the author and artist of Voice of the Angels: A Healing Journey Spiritual Cards – the first deck of angel cards with channeled messages, plus accompanying music, journal, and guided meditation the angel cards are based upon – and several self-help books, including the best-selling, award winning finalists Money and Manifesting and Money and Manifesting II.
ANGEL ORACLE DECKS AND OTHER ORACLE DECKS
My oracle decks Song of OM (all cards in the deck based upon song titles from the music series), The Integration Cards, and Oracle of Tea were released in 2016, and are available as online readings including animated "3D experience" readings that include – of course – music. But why animated? Because I always saw them from day one in my head as multi-dimensional. So now they move. And they have music. And well, that's very cool.
I did the animations myself. I taught myself to animate. To bring these cards to life was an awesome experience. So apparently Universe knew what it was doing when I couldn't find anyone to do the animations. Doing it myself was an amazing experience. Amazing. So see, Universe knows what it's doing too. Who knew?
P.S. All my oracle decks, including new ones created in 2020 and 2021, that are in print currently are all available in my Etsy shop.
That's kind of all I know. . .It's enough, right?