ABOUT DYAN GARRIS
Dyan Garris (straight up, how do you pronounce that anyway?) Easy.  Dyan is pronounced, "Diane." Although I've been called worse, please don't call me Dylan…or…Dion. My mother always said that Diane with an "i" shines like a diamond. A well respected numerologist said that "y" there equates to a deeply spiritual life. You tell me.
WHAT ABOUT THIS MUSIC?
Dyan is an award winning New Age recording artist. Garris has produced and recorded thirteen albums, including a series of six independently tested music and guided meditation CDs that earned The National Health & Wellness Stamp of Approval.  Her music is heard on Pandora, Spotify, iTunes, Sirius XM, Muzak, The Sleep Channel, The Spa Channel, Music Choice, Last FM, and more.
GOT A NEW CD?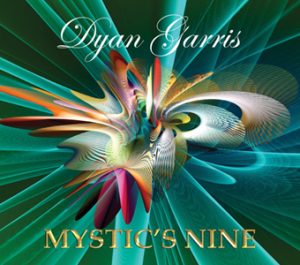 Yes! So exciting! The new CD, "Mystic's Nine," is an award winning concept album whose theme revolves around the resilience of the indomitable human spirit and triumph over adversity. It was released 1 November 2016 after 4 years of unavoidable delays and bizarre circumstances. Apparently the theme of the album knew the theme of the album even before she did.
ANYTHING ELSE?
You bet. Labels are the most ridiculous thing ever, right? Why can't we just be a whole person?  She's also a visionary mystic, voice recognition psychic, and trance channel medium who reads from the Akashic Records. However, she could quite possibly be the LEAST "woo woo" person you'll ever meet. A pioneer in the field of energy integration, chakra balance, and energy field healing, she has helped thousands of people move forward by teaching them to use their innate intuition and to connect with and harness the power contained in their chakras.
BEGINNINGS
Dyan started playing the piano when she was four years old. Her mother bought a baby grand piano and soon thereafter brought in a piano teacher. The piano teacher was an interesting choice because he was totally blind.
DID YOU SAY BLIND?
Yes, blind. Blind, but not deaf. At the first lesson Dyan asked him how he was going to teach her to play the piano since he could not see, and she asked him to take off his glasses so she could see his eyes. He obliged. They were beautiful blue and they were definitely blind. But even then through those obscured windows, she saw his soul.
SO HOW DID THAT WORK?
He was brilliant. And he said to her, "Child, we do not need to be able to 'see' to play this instrument. We only need to be able to feel the music. Music is not about seeing. It's about feeling." With that, he took her hands and placed them atop of his and they played the most wonderful, beautiful music.
ANY OTHER INSTRUMENTS?
Garris is a classically trained pianist, and along with continual piano lessons and schooling from that time on, she also went on to also take up the violin. She became first chair, first violin throughout high school orchestra and still loves the way the two instruments blend so nicely together in perfect harmony.
 FAVORITE QUOTE OR SAYING?
Indeed. "Stop trying to tell the Universe what to do. It already knows what to do." And, can't resist another: "If we know it all already, then we can all just go Home."
ANY MORE ALBUMS IN THE WORKS?
Of course.  A relaxation album, "Orenda: Breath of Angels" will be released in 2017.
ANY OTHER TIDBITS?
Dyan's mother had the singing voice of an angel, a magnificent soprano. And she cut a record with her singing group in the 60s. Pretty incredible for four women way back then and without a record label behind them.  Dyan's father also had a love for and played the violin. Rather well, actually.
WHAT ELSE THEN?
Someday I will give you the backstory. Right now, we don't know each other quite well enough yet. But here are a few additional snippets:
Garris' chakra balance certification course is double accredited and is approved as 50 hours of continuing education through NCBTMB.  She has created a "Spiritual Toolbox" of products that are designed to work together for multi-dimensional, integrative healing. These include the multiple award nominated CD series with many #1 charting songs.
Garris is also the author and artist of Voice of the Angels: A Healing Journey Spiritual Cards – the first deck of angel cards with channeled messages, plus accompanying music, journal, and guided meditation the angel cards are based upon – and several self-help books, including the best-selling, award winning finalists Money and Manifesting and Money and Manifesting II.
Garris' new oracle decks Song of OM (all cards in the deck based upon song titles from her music series), The Integration Cards, and Oracle of Tea were released in 2016, and are available as online readings including animated "3D experience" readings that include -of course – music.

LISTEN ON: